10.27.2011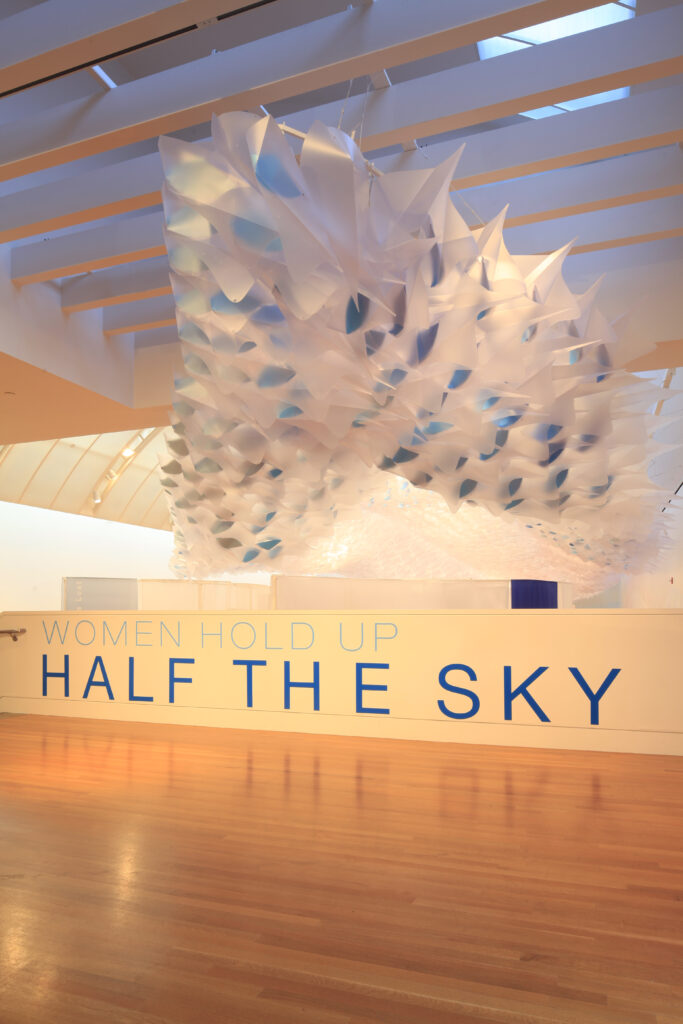 For Immediate Release
Press Contact: Alison Rowe (323) 573 7474
Opening Saturday, October 27, 2011
Women Hold Up Half the Sky
Skirball Cultural Center, Los Angeles
Opening on Thursday, October 27 at the Skirball Cultural Center, LA, Women Hold Up Half the Sky, is based on the book by Nicholas D. Kristof and Sheryl WuDunn. A searing examination of the role of women worldwide and lament for the intellect and creativity lost through subjugation and slavery, the exhibition is a moving testament to women's perseverance and bravery in the face of appalling injustice.
For the exhibition, LAYER contributes a major work, Wish Canopy, unfurling over the exhibition area. Made from more than 1500 interlinked translucent pieces, Wish Canopy is both tangible and dream-like. In the tradition of wish trees, visitors are invited to write their personal messages and hopes for the women and girls of the world. The wishes, when woven into Wish Canopy, form a joyous multi-colored celebration of dreams and achievements.
The exhibition continues until March 11, 2012.
LAYER is Emily White and Lisa Litte. In October, the LA-based design team debuts three significant new projects that show the depth of thought and diversity of interests that are the hallmark of this remarkable young company.
WHAT: Wish Canopy
WHERE: Skirball Cultural Center, 2701 N. Sepulveda Blvd. Los Angeles
WHEN: Press Walk-through, Tuesday, October 25 2011. Contact communications@skirball.org Public View, Thursday, October 27, 2011. 6 pm.
LAYER PRESS: Alison Rowe, merrily.and.keane@gmail.com (323) 573 7574
SKIRBALL PRESS: Mia Carino, communications@skirball.org (310) 440 4544
LAYER ONLINE: www.layerLA.com